Tektronix service centre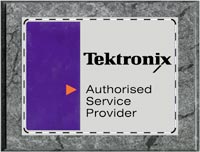 Tektronix company takes care not only of the most modern devices turnout but also of the after-sales high level service support. Service centre of the company has branch offices in many countries and due to this you may expect to have free warranty service regardless the country of the world you are staying in and the place where you purchased the device. In 1998 our manufacturing areas, equipment and technical training of the engineering team were inspected by the specialists of Tektronix company. According to the results of several companies-applicants inspection Eliks was officially approved as the only authorized service centre of Tektronix in Russia. Once again it proves that our production capacity meets high world standards requirements.
In our service centre we provide warranty and out-of-warranty service for test and measuring equipment produced by Tektronix and purchased in Russia and also in other countries. Warranty service term strictly complies with the terms determined by Tektronix company. For devices under warranty and on conditions that it was not the consumer who caused the device failure in work all the repair work, parts and units replacement are provided at no charge. Besides that all the parts and units continue to be Tektronix property without being given back to their owner. For the devices which warranty term has already expired we offer unique opportunity of comparatively cheap repairs because the main units can be replaced taking the price of the defective and returned back to Tektronix ones into consideration. Of course the warranty is given for all types of work provided.
We would be pleased to meet you in our office, to demonstrate Tektronix products and also to answer all of your questions.